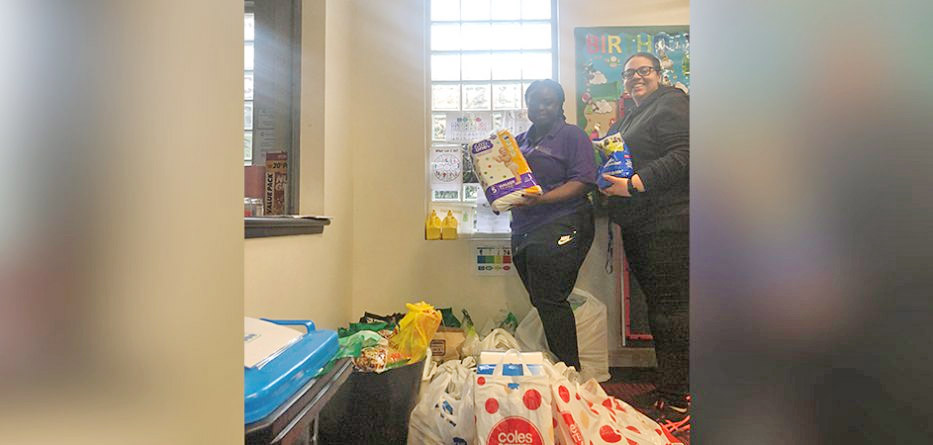 Team members from the St Oliver's, Harris Park, Catholic Out of School Hours Care with donations to victims from the Beirut explosion in August 2020. Image: Supplied.
Children's Week (24 October – 1 November) is a national celebration of children's rights, talents and citizenship held on the fourth Wednesday of October in Australia to coincide with Universal Children's Day. Each year the theme of Children's Week highlights a particular Children's Right.
Children's Week 2020 is a wonderful opportunity to promote the rights of children and young people, and to celebrate their capacity to actively contribute to the world around them.
In August 2020, the world was shocked by the devastation caused by an explosion in Beirut. Catholic Out of School Hours Care (COSHC) St Oliver's, Harris Park, wanted to show Beirut families they were in their prayers.
Natalie Markos Douwaihi – COSHC St Oliver's Nominated Supervisor, partnered with Basics for Beirut, who started a goods drive to provide much-needed items to the families devasted by the blast.
Families, the local community and local COSHC services got involved and donated what they could. The donation were packed into baby, toiletry and food packs that have been sent to the communities of Beirut.
Early Years Education and Care will continue to prayer for the communities of Beirut.
Catholic Diocese of Parramatta Services Limited (CDPSL), a new agency announced in August 2019, delivers a range of early childhood services throughout the Diocese.
---
Learn more about Catholic Out of Hours Care at St Oliver's Primary