More Reading Recovery teachers for our students
19 Feb 2018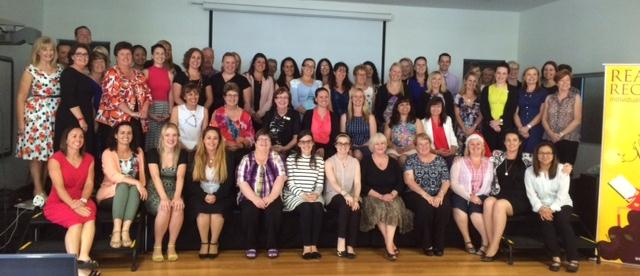 Reading Recovery teachers at their graduation.
On Thursday 3 December 2015, the Reading Recovery Graduation ceremony was held at St Francis of Assisi Primary, Glendenning.
At the Reading Recovery Graduation, 33 teachers completed their first year of training and 38 completed their second year and received their registration number, which allows a teacher to be employed as a Reading Recovery teacher in any education system around the world. Seven teachers also graduated with L2 qualifications (L2 is integrated with Year 2 comprehension and writing).
Reading Recovery is an early literacy intervention that provides one-to-one teaching for children who need greater assistance in learning to read and write following their first year at school.
Reading Recovery Tutor Carolyn Broadhead said Reading Recovery is an exciting intervention to be part of.
'Children who otherwise would languish in the school system flourish and catch up to their peers as a result of very skilled teaching by the Reading Recovery teacher with the support of the classroom teacher and the child's family,' Carolyn said.
What could be more rewarding than being part of that?
Our Lady of the Angels Primary's Reading Recovery teacher Frances Eisenhuth said that when reflecting on our group's learning she was reminded of the story of the butterfly who was assisted out of it's cocoon by a well meaning human cutting the cocoon opening making it easy for the butterfly to escape it's confines.
'This aid didn't assist the Butterfly at all, unfortunately the butterfly was swollen, limp and never able to fly as it had not gone through the challenges, trials and learning that needed to occur as a result of it's journey out of the cocoon,' Frances said.
'This year, on our Reading Recovery journey, our tutors were careful not to cut our "cocoon" for us (even though we all wanted our to tutors to just "give us what we need, NOW!"); instead we collaborated with our tutors and colleagues - we were challenged, we read, we questioned, we pondered, we trialled, we got frustrated, we tried again and we rejoiced.'
'In turn this is what we endeavour to achieve with our students - we know not to cut their "cocoons" but work with them to develop a self-extending system,' she said. 'As Clay would say "teachers aim to produce independent readers whose reading and writing improve whenever they read and write.'
Facebook
06 Dec 2023

Thank you for your generous donations to our Christmas hampers, helping those less fortunate this Christmas. ❤️